Schneewittchen – Für die Liebe sterben
Selten ist der Gebrauch von Superlativen so zwingend notwendig wie beim siebten Longplayer "Für die Liebe sterben" des Ausnahme-Duos Schneewittchen. Sängerin Marianne Iser und Komponist Thomas Duda ist ein grandioses, pathetisches und herrlich schräges Werk gelungen, das seines Gleichen sucht. Kurz gesagt: Das beste, aufregendste und erregendste Album in der aktuellen deutschsprachigen Musiklandschaft. Rund drei Jahre nach ihrem letzten, groß gefeierten "Keine Sekunde Schweigen", zeigt sich das Hannoveraner Duo inspirierter und vielschichtiger denn je. In Zeiten von flachsinniger Phrasendrescher-Romantik à la Revolverheld und Helene Fischer fegen Schneewittchen wie ein hell schimmernder Meteoriten-Schauer über die Erde hinweg, um uns die Schönheit und die Lust an der Sprache wieder zu geben. Mariannes explizite Lyrik entfaltet sich erst durch ihre kraftvolle Darbietung zur Gänze. Sie singt nicht bloß, sondern geht für ihre Geschichten, die von Liebe, Auflehnung und Absturz handeln, komplett in Flammen auf – wie bei "Freiheit", einem hymnischen Plädoyer für alle Menschen, die gerne aus dem Rahmen fallen.
In jedem Song verbrennt sich die ausdrucksstarke Sängerin voll und ganz, selbst bei den ruhigeren Tönen. So gerät "Wien" nicht nur zu einer augenzwinkernden Sozialstudie über die Bewohner dieser morbiden Stadt, sondern wird auch zu einer der schönsten Liebeserklärungen an Wien selbst, die jemals ein "Piefke" zu Papier gebracht hat.
Tausend Worte können nicht das beschreiben, was Schneewittchen im Kern ausmacht. Müssen sie auch nicht. Dafür sorgen die beiden Musiker selbst – in Form ihres Eröffnungsstücks: "Wir machen Musik" kommt einer programmatischen Kampfschrift gleich, die mit Zitaten aus Pop und Klassik das Zeug zur absoluten Hymne für das Zweiergespann hat. "Wir machen Musik, so wie andere Krieg", gibt sich Marianne dort angriffslustig. Seit Napoléon Bonaparte wissen wir aber, dass in der Liebe und im Krieg alles erlaubt ist – und so setzt das norddeutsche Duo auf totale Klang-Offensive. Ob nun forscher Indie-Dance ("Auf den 4ten Blick"), barocker Kammer-Pop ("Vergifte mich"), Varieté ("Königskinder") oder Prä-NDW-Rock ("Tausend Möglichkeiten"): Musikalische Grenzen sind da, um sie zu sprengen. Selten aber waren Schneewittchen derart experimentierfreudig wie beim auffällig elektronisch geprägtem Stück "Wolfsmutter", bei dem aufgenommene Geräusche einer Autopresse auf dem Schrottplatz als Schlagzeug fungieren. Auch Elefanten gibt es zu hören. Sie stammen wiederum von der Bostoner Tierforscherin Andrea Turkalo, die im zentralafrikanischen Dschungel Studien zur Kommunikation der Dickhäuter betreibt. Ihre Geschichte, geprägt vom Kampf für den Tierschutz und gegen Wilderer, inspirierte Marianne und Thomas zu einem weiteren Stück: "Mama To Doli". Auch hier kommt das von Turkalo bereitgestellte Elefantengetöse zum Einsatz.
Über Jahre hinweg konnte Schneewittchen mit ihrem Zwischen-den-Stühlen-Sound eine große Anhängerschaft erspielen, der bei der Entstehung von "Für die Liebe sterben" eine entscheidende Rolle zukam. Denn die CD wurde über eine Crowdfunding-Kampagne finanziert – und das überaus erfolgreich. Das Endergebnis kam selbst für Marianne und Thomas unerwartet: Rund 21.000 Euro spendeten die Liebhaber und Gönner der Band. Wenn das mal nicht bedingungslose Treue ist! Schneewittchen dankt es den Fans mit einem überwältigend schönen Album, das von keinem geringeren als Christian Decker (Ex-Fury In The Slaughterhouse) produziert wurde, und zudem mit Stefan Ackermann, Sänger der Neuen Deutschen Todeskünstler von Das Ich und Jens-Michael Eckhoff alias Jean-Michel Tourette, seines Zeichens Keyboarder von Wir Sind Helden, zwei prominente Gastmusiker an Bord hat, die zwar stilistischer nicht weiter voneinander entfernt sein könnten, aber bei Schneewittchen dann doch eine gemeinsame Heimat gefunden haben. Geht nicht? Gibt's nicht!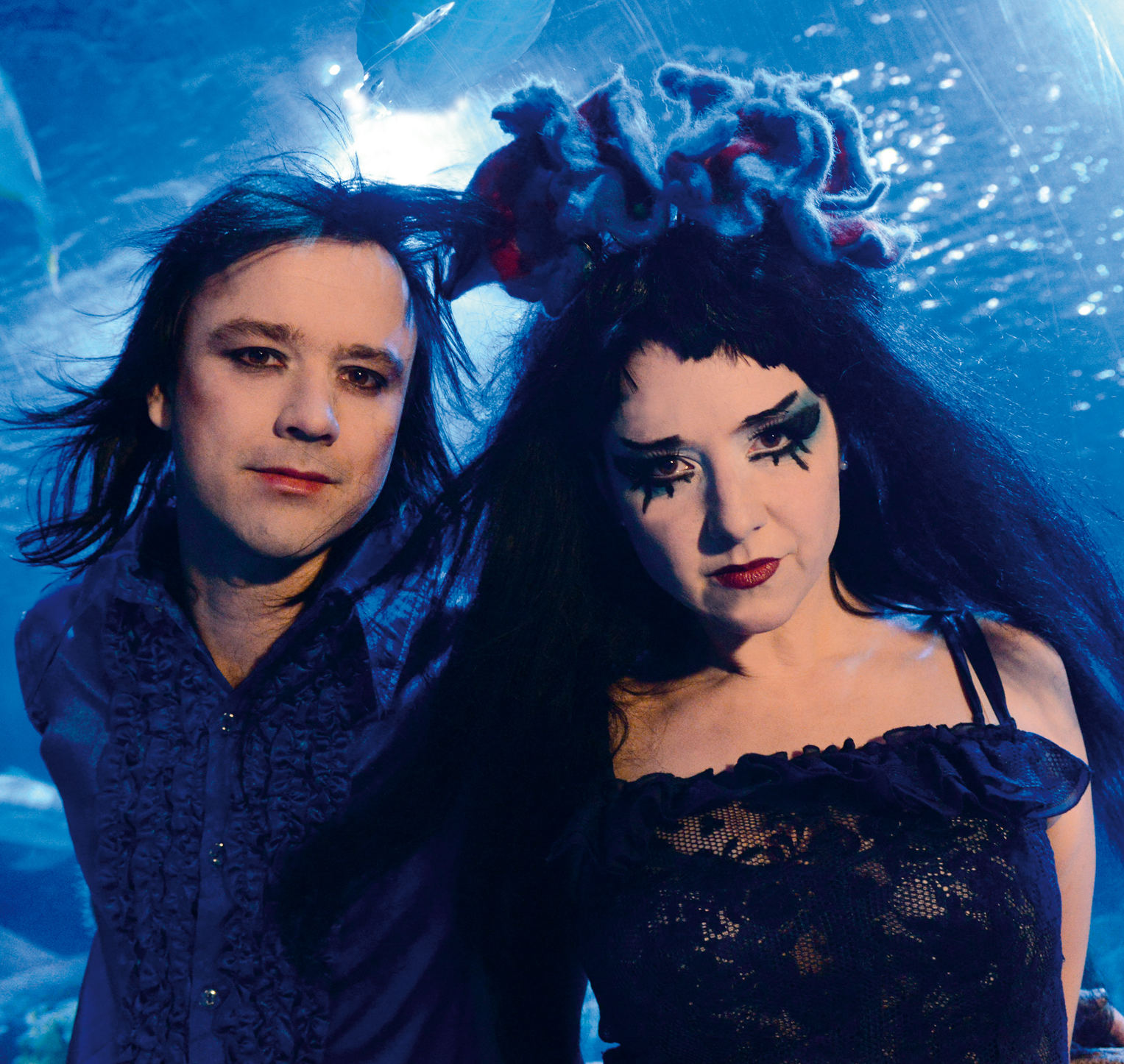 Using superlatives to describe an album is rarely necessary, but in case of the 7th LP by the unique duo Schneewittchen called "Für die Liebe sterben" – to die for love – it is inevitable. Singer Marianne Iser and composer Thomas Duda have created a gorgeous, pathetic and pretty weird piece of art, which is definetely outstanding. Frankly speaking, the best, most astonishing and exciting album in latest german releases. In these days of insipid phrasemaker romanticism Schneewittchen appear to be a shower of meteorites sparkling in the sky to remind us of the beauty and pleasures of language.
Marianne´s explicit lyrics do fully display in her powerful performance. She does not merely sing, she flares up by telling stories of love, rebellion and failure, as with songs like "Freiheit" – freedom – an hymn-like plea for those off-beat. Performing any of the songs, the expressive singer scorches herself even if it comes to calm tunes. Take "Wien" – Vienna – the song is, with a wink of the eye, a sociological sketch of people living in this morbid city as well as the most beautiful way to declare one´s love to Vienna ever written by a "Piefke".
A thousand words could not describe the essence of Schneewittchen. There is no need to either. The two musicians simply describe themselves by releasing this album. Limitations in music are to be surmounted. Rarely Schneewittchen have proved to be that experimental as with the song "Wolfsmutter" – wulfmother -, which is noticeably influenced by electronic music. The sounds of a scrap baling press recorded at a scrap yard serve as drums. Eventually you can listen to elephants, too. They were recorded by zoologist Andrea Turkalo from Boston who studies on communication patters of elephants in the central african jungle. Marianne and Thomas took her story, determined by the struggle for animal protection and against poachers, as an inspiration for yet another song: "Mama to Doli". Here as well Turkalo had delivered the elephants´ trumpeting they applied.
All along the years Schneewittchen´s never-to-be-pegged-style has become precious to an ever increasing fan base, which had currently taken a substancial role in producing this album. Since it was realised by crowd funding and the campaign had been remarkably successful. The result was far beyond Marianne´s and Thomas´ expectations: Enthusiasts and benefactors donated about 21.000 Euro.
The sky is the limit.