Schon 1996 erschufen die vier Klangtüftler den «Einheitsschritt» («3 Schritte vor und 3 zurück»), einen wahren Independent-Klassiker. Mit «Tod … find' ich gut!» (1998), «80er Jahre» (2007) sowie dem GEWC-Nr.1-Hit «Durchbruch» (2008) legten die «Scharfrichter des schwarzen Humors» weitere Tanzflächenfüller aufs Parkett. So erreichte das Album «Vision und Tradition» (2008) nicht nur die Top 10 der Deutschen Alternative Charts, sondern behauptete für mehrere Wochen gar Platz 1 der German Electronic Web Charts. Dass KONTRAST jedoch nicht nur bissig, sondern auch gefühlvoll können, weiß man spätestens seit 1999: «Freiheit?» (gemeinsam mit Gastsängerin Ivi) ist ein ergreifendes Abschiedsduett, das folgerichtig zum Midtempo-Hit in zahlreichen Clubs avancierte. Der entwaffnend ehrliche, tiefe Blick in gescheiterte Beziehungen zeichnet auch die Powerballade «Eisberg» (2004) und «Für immer vorbei» (2008) aus, dessen Videoclip bei youtube bereits mehr als 220.000 Aufrufe verzeichnen konnte. In der winterlichen Abgeschiedenheit eines Nordsee-Feriendorfes entstanden die Kompositionen für das vierte KONTRAST-Album «Balance» und von Produzent Daniel Logemann (Massiv in Mensch) klanglich veredelt wurde. Die stürmische, überaus tanzbare musikalische Umsetzung von Theodor Fontanes legendärer Ballade «John Maynard» ist ein designierter Club-Hit, während das lyrisch beeindruckende «Am Fenster» (bewusst nach dem gleichnamigen Klassiker der Ost-Rocker City benannt) atmosphärisch die tiefgründige Seite der «elektronischen Tanzkapelle» unterstreicht. Druckvoll befeuert «Nothing As It Seems» mit seinem Wechselspiel aus deutsch- und englischsprachigen Vocals die Tanzböden, während die Nonsens-Nummern «Jeanette» und «Die Elite» wieder einmal das für KONTRAST schon archetypische Augenzwinkern offenbaren. «Liebe light» schließlich weckt mit seiner leichtläufigen Melodie und dem lasziven Gesang von Nebelgeist sofort Erinnerungen an die frühen 80er Jahre, die goldenen Zeiten deutschsprachiger Popmusik – glasklar «NDW 2.0»!
«Balance», das in der Digital-Ausgabe noch mit vier exklusiven Bonus-Tracks bestückt ist, macht überdeutlich: Dirk, Falko, Roberto und ihr charmanter Nebelgeist sind auch anno 2014 noch immer ein
einzigartiger KONTRAST in der Musiklandschaft.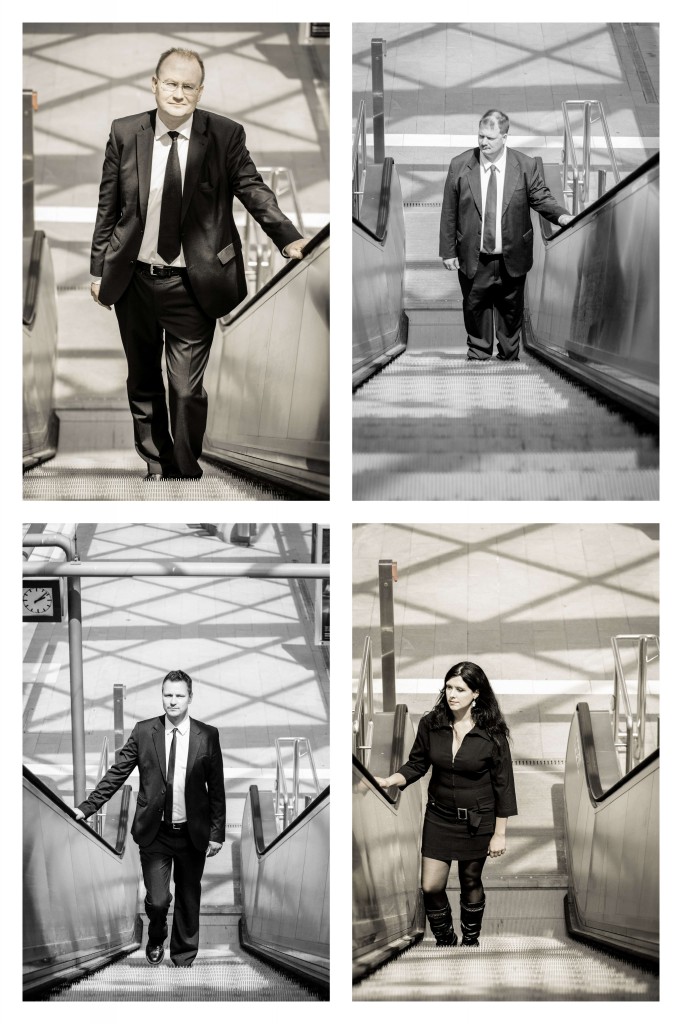 Back in 1996, the four sound-fiddlers already created a true independent classic with their song
«Einheitsschritt» («3 Schritte vor und 3 zurück»). With «Tod … find' ich gut!» (1998), «80er Jahre» (2007) and their GEWC-No. 1 «Durchbruch» (2008), the «executioners of black humour» hit the dancefloors again.
Their album «Vision und Tradition» (2008) not only reached the Top 10 of German Alternative Charts
(«DAC»), but also defended a No. 1-ranking in German Electronic Web Charts for several weeks. That
KONTRAST cannot only be mordant but also full of feeling, finally leaked out in 1999: «Freiheit?» (recorded with female guest singer Ivi) is a touching farewell duet which consequently rose to be a mid-tempo hit in numerous clubs. The disarmingly honest, deep look into failed relationships also distinguishes the power ballad «Eisberg» (2004) and «Für immer vorbei» (2008), with a videoclip achieving more than 220,000 clicks on Youtube.
The compositions for the fourth album of KONTRAST were written in the wintry seclusion of a holiday village at the North Sea. Daniel Logeman (Massiv in Mensch) has henceforth been polishing the sounds and giving the songs their final touch. The stormy, uncompromisingly danceable musical realization of Theodor Fontane's legendary poem «John Maynard» is a designated club hit.
In contrast, the impressive «Am Fenster» (intentionally named after a classic of the GDR-rockers City) emphasizes the competence of the «Electric Four» to create deep lyrical atmospheres. «Nothing As It Seems» attacks the dancefloors with its mixture of German and English vocals in a powerful way, while nonsense-tracks «Jeanette» and «Die Elite» unveil the almost archetypical twinkling in KONTRAST's eyes again. Finally, the fluffy melody and Nebelgeist's lascivious vocals on «Liebe light» immediately awake memories of the early 1980s, the golden age of German pop music – definitely «NDW 2.0»!
«Balance», with its digital-issue featuring four exclusive bonus tracks, brings it out unmistakably: Dirk, Falko, Roberto and their charming Nebelgeist remain in 2014 what they have always been – a pleasant KONTRAST in the music scene.