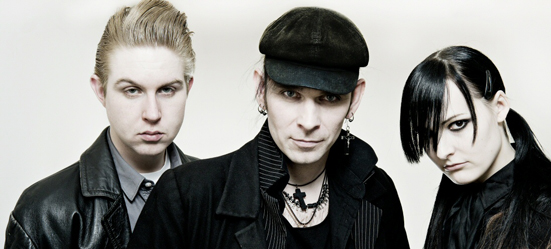 Partly Faithful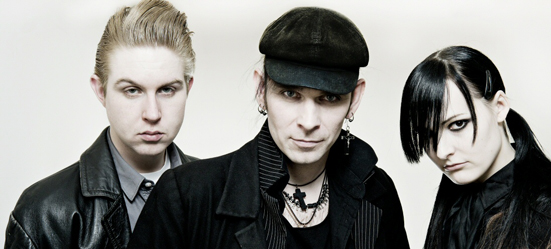 Biography
Partly Faithful formed in London in the spring of 2011 when original guitarist Gemma Thompson (Hindley) approached vocalist Ed Banshee (Screaming Banshee Aircrew) about forming a band that merged old school post-punk with contemporary sounds. Along with bassist Christopher Blake (Dr Vampire/Somewhere Outside New York), they conceived the initial songs that gave Partly Faithful their trademark sound. Within the space of a few weeks, they were offered their very first gig opening for post-punk legends The March Violets in Leeds. Belle Star (Killing Miranda/Nosferatu) joined them on live drums and subsequently became the band's studio drummer as well as contributing creatively to their songs.
After a busy 12 months of gigging, Partly Faithful released their self-titled debut EP in April 2012 and were invited to perform at The Horrors official London afterparty. Further support slots with neo-noir bands such as O.Children, The Chapman Family, Cold In Berlin and Vuvultures won them fans on the live circuit and their second EP 'The Beehive' was released to critical acclaim in October 2012.
Gemma left Partly Faithful in early 2012 to concentrate on her other musical project Savages and while her former bandmates searched for a new guitarist, they enlisted Steve Williams (Christian Death/Altered States) and Murray 'Muzz' Fenton (Artery) to help out with live shows. After several months of searching, the band introduced Anouska Haze (Rubella/Exotica) as their full-time guitarist and backing vocalist in August 2012.
In early 2013, Partly Faithful travelled to Earth Terminal Studios in Hampshire to record their debut album 'Lazarus Under Glass' with Lewis Childs (Nosferatu). The 13-track album features guest backing vocals from Jason Lipscombe of no-wave/punk trio Clockwork Era and showcases their spikier new sound. In February 2013, fans got a taster of things to come when the first single 'Underset' was released as a free download. Its accompanying video features footage shot by Anouska Haze in Hong Kong, Singapore and Taipei.
The album 'Lazarus Under Glass' will be released at the end of April 2013 with distribution through Danse Macabre (Europe, excluding UK) and M&A Music-Art/Sound Pollution in Scandinavia. A short tour of the UK will follow with further dates around Europe to be announced.
The artist
Nationality: UK