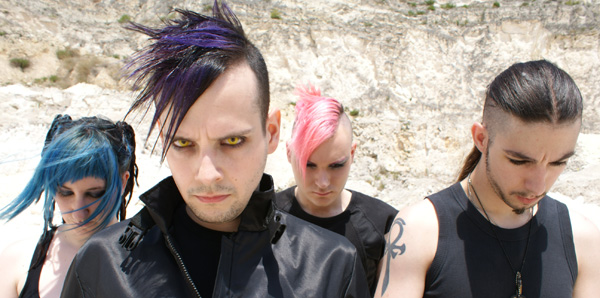 Extinction Front
Biography
Der Hellectro hat längst seinen weltweiten Siegeszug im schwarzelektrischen Underground angetreten. Waren es ursprünglich Bands aus Belgien, Deutschland und USA, so hat mittlerweile jedes Land seine eigenen Vertreter ins Rennen um die blutigste Endzeit-Stacheldraht-Krone geschickt. Extinction Front aus dem spanischen Barcelona haben
mit "Shut the Fuck Up" einen veritablen Hit im Gepäck, der bereits auf der iberischen Halbinsel einen Flächenbrand ausgelöst hat. Keine Frage: Auch deutsche Tanzflächen dürften brennen, denn der Sound des Trios zitiert geschickt die großen Vorbilder, ohne jedoch die eigene Note zu vergessen.
— english version —

Hellectro conquered worlds underground dancefloors. The origins from Belgium, Germany and USA found already sprouts from all countries. Extinction Front from Barcelona, Spain created with their hit "Shut The Fuck Up" a dancefloor avalanche in the spanish scene. They prepared themselves to conquer the rest of Europe with an extraordinary mixture of brutal, harsh beats, modern electrosynth arrangements and fatalistic lyrics on the edge of the apocalypse. EXTINCTION FRONT was born in 2005 to announce the beginning of the countdown for the human species, delighting in this era we are living nowadays, the last step of evolution before extinction. This is the message that we want to transmit in a very clear and direct way, with the power of a brutal shockwave wich exterminates everything on its way, and that's why its sound is so industrial and powerful.